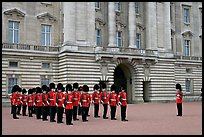 The Household Division
The men you will see in front of Buckingham Palace (and other locations) are not just ceremonial guards but also serving Soldiers, they also perform duties throughout the world as professional soldiers and are known as some of the most elite and skilled soldiers in the British Army.. This is why Changes may occur in the guard change as the soldiers are required for operational duties.
The Household Division is made up of seven Regiments.
These comprise:
And the five regiments on foot:
Most of the time it is soldiers from one of these regiments that will be outside Buckingham Palace, but do not be surprised if on some occasions you do not see the traditional guardsmen, particularly in August when often other regiments guard the Queen.
The responsibility of guarding the Sovereign by the Household Troops (as they were known at the time) dates back to the time of Henry VII (1485-1509).
These are some of the best soldiers in the British Army and have fought in virtually every major area of conflict with great distinction since the 17th Century. They also take an active role in protecting their Sovereign; at night they patrol the grounds of both Buckingham Palace and St. James's Palace.
BUSCA EN EL DICCIONARIO EL SIGNIFICADO DE LAS PALABRAS RESALTADAS EN AMARILLO PINCHANDO SOBRE ELLAS