Here's some information that will help you to enjoy your stay in Britain.
Britain's weather

is very changeable. It doesn't snow very often, but it can be rainy, sunny, cloudy, windy, warm, foggy or cold at any time of year. If it's raining when you get up in the morning, it can be hot and dry by the afternoon. Generally the west of Britain is wetter than the east, and the north is cooler than the south. But be prepared for any kind of weather.
The currency

in Britain is the pound sterling (£), which is divided into 100 pence (p). You can change money at airports, at banks and at some travel agencies. Look for the name 'bureau de change'. Credit cards are widely accepted in shops, restaurants, petrol stations, etc.
Shops

are usually open from 9 a.m. to 5.30 or 6 p.m. from Monday to Saturday. On Sundays some shops are open from 10 a.m. to 4 p.m., but a lot of shops are closed. Most towns have at least one general shop that is open till late at night every day. Banks are open from 9.30 to 4.30 Monday to Friday, but most have cash machines for getting money outside these times. Museums, art galleries, and other attractions are usually open from about 10 a.m. to 5 p.m.
You can make national and international calls from most

public telephones

. You will need either coins or a phonecard. These cards are very useful for making long international calls. They can be bought at newsagents and some other shops which show the 'phonecard' sign.
There are different kinds of public telephones in Britain.
These are British Telecom telephones.
Coin phone. You put money into it. You can use 10p, 20p, 50p and £1 coins. The minimum charge is 10p
Card phone. You need a plastic card for this phone. You can buy a phonecard at newsagents and some other shops. They cost £2, £4, £10 or £20.
With some phones you can use coins, a phonecard or a credit card.
A lot of people nowadays have got a mobile phone.
All cities have

buses, trains, and taxis

. In London there's also the

Underground

. People queue for buses and they get annoyed if you try to push in at the front. Join the queue at the back. For longer journeys travelling by coach is a lot cheaper than going by train, but it's slower. Don't forget, vehicles travel on the left in Britain, so be very careful when you cross the road. Look both ways first.
Most people in Britain don't smoke.

Cigarettes

are expensive and you can't buy them until you are 16. You mustn't smoke in cinemas, on buses or on the London Underground, and most public places have 'no smoking' areas. As a general rule, don't smoke in queues, in shops or when you are with other people who don't smoke, especially in someone's house.
People usually only

shake hands

when they are introduced for the first time. At other times they just say 'hello'. Teenagers generally don't shake hands. It's something that adults do.
In Britain young people don't

go out

every night. They usually go out on Friday and Saturday nights. They go to parties in their friends' houses, to the cinema, to discos or to cafes. If they are 16 they can go to pubs, too, but they can't buy alcoholic drinks till they're 18. Parents usually expect teenagers to be home by 11 or 12 o'clock. Most people live in suburbs and there aren't any buses or trains after 11 o'clock. Parents often go to collect their children from a party.
If a boy or girl comes home late, they are usually not allowed out (grounded) for a week.
Most towns in Britain
have one

cinema

. Cinemas often have three parts or studios. They usually show a new film each week.
Cinemas are quite expensive in Britain. It costs about £5 to get in.
Many people watch films at home on video. You can rent videos for about £2 a night. There are a lot of video libraries in towns. You can often rent videos from petrol stations and newsagents' shops too.
A day at the seaside

is a traditional day out in Britain. Britain is an island, so most people can
reach the co
ast in 2 hours or less. People go to places like

Brighton, Bournemouth and Blackpool

.
People go by train or by car. Often they go in a group and they hire a coach. Groups of teenagers often go together without their parents.
There is a lot to do in a British seaside town. There's usually
a

fun fai

r and a boating lake. There are theatres and

amusement arcades

. And, of course, there are lots of cafes, shops and pubs.
If the weather is fine, people sit on the beach. The children build sandcastles. Some brave people swim in the sea, but the water is quite cold. People often take a picnic and eat it on the beach.
At bank holidays thousands of people go to the seaside. There are long traffic jams on the roads to the popular towns.
The people in Britain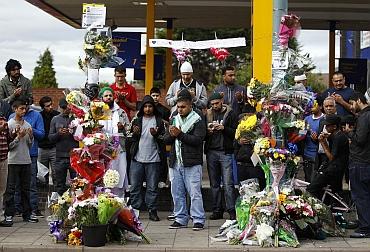 People from all cultures and ethnicities can be found in every corner of Britain and each person in his or her own way has contributed to make Britain the place it is today. Britain is and has always been a mixed race society. Early in our history we were invaded by Roman, Saxon, Viking and Norman armies and later Africans were brought to Britain by force in the seventeenth and eighteenth centuries as slaves or servants. Over the years, thousands of people have arrived in Britain as refugees from France, Ireland, Russia, and other countries, escaping from persecution or famine in their own countries.
About 7% of the population of Britain today are people from other cultures and ethnicities. That is about 4 mil
lion people.
White 94 per cent,

Indian 2 per cent,

Pakistani 1 per cent,

Black and other 3 per cent